Climate change is affecting every quadrant of the earth and the effects are becoming more and more visible every day.
But the big question is - who is more at risk? What cities will be under pressure, and under water, first? Here are five places in America that are extremely vulnerable to the effects of climate change:
New York City
What is already happening?
Heat waves have become more frequent in the most recent summers, with the days of 90 degree heat almost doubling. Hurricane Sandy affected New York City as well, causing it over $20 billion in damage, and it is expected that the city will experience even more hurricanes in its surrounding areas in the near future. The city itself is already extremely vulnerable due to past events.
What could happen in the future?
New York City is extremely prone to flooding. Al Gore explained in "An Inconvenient Truth" that if Greenland broke up and melted, as it is already doing today, New York City would be almost completely under water. The minimum increase in temperature that New York State will experience is 5 degrees fahrenheit by 2100. This means a huge increase in heat waves, something New York is known to experience pretty frequently.
What is being done?
There has been increased government intervention in climate change, especially after the devastating effects of Hurricane Sandy. New York hopes to reduce greenhouse gas emissions by 80% by 2050. There are also several programs set up to help avoid climate disasters in the future, For example, New York State set up a Community Risk and Resiliency Act that was created to advance New York's adaptation to climate change. New York focuses on adapting to climate change, especially. Another program that promotes this adaptation is the Catskill Waterfront Flooding Task Force, an organization that helps prepare for the flooding that will come from larger storms in the future.
Virginia
What is already happening?
Increasing amounts of extreme weather conditions have ravaged the state. In 2011 and 2012, Virginia declared a state of emergency due to the effects of Hurricane Sandy and Hurricane Irene. The state itself is 33% more likely to get severe precipitation.
What could happen in the future?
Virginia is located in the southeast section of the country, and this area is prone to extreme sea level rise due is coastal regions. For the same reason, they are also prone to more hurricanes. The temperature is expected to have more than 100 days over 90 degrees Fahrenheit in the coming years. All of this will eventually lead to decreased water availability, heat-stress related illness, increased respiratory problems, and more. Although these are just predictions, they are what may happen if no change is made in how society is living.
What is being done?
Because of President Obama's Better Buildings Challenge, cities in Virginia have been committed to reducing their energy. Rochester, the Arlington Country and the City of Roanoke goals are to reduce their energy by 20% by 2020 in 3.06 million square feet of public buildings. This is a step in the right direction, but there is always room for improvement when it comes to the health of our environment. The state just recently released a Climate Action Plan, as many other states did as well. This plan provides steps to improve coastal resiliency to prepare for severe storms to come. 
Florida
What is already happening?
Hurricane Isaac and Tropical Storm Debby made summer 2012 Florida's wettest summer on record. The problem is that 80% of their most vulnerable populations live in a flood hazard area. There has been an increasing amount of heat waves across the country, which has lead to even more hospitalizations and deaths in Florida due to heat stroke.
What could happen in the future?
There will be an increase in heat-related deaths if there are no movements toward slowing climate change. Flooding in lowland areas will increase exponentially, and homes will be under water before the turn of the century. Miami is predicted to be under sea level by 2050.
What is being done?
There are more precautionary measures in place to reduce death rates from heat stroke. There are also an increasing amount of clean energy initiatives all throughout the state. Environmental organizations are mapping out the areas at risk to flooding, and planning ahead to prevent further damage. The same organizations are also encouraging sustainable communities where citizens are informed in how to   improve their living to help the environment.
New Orleans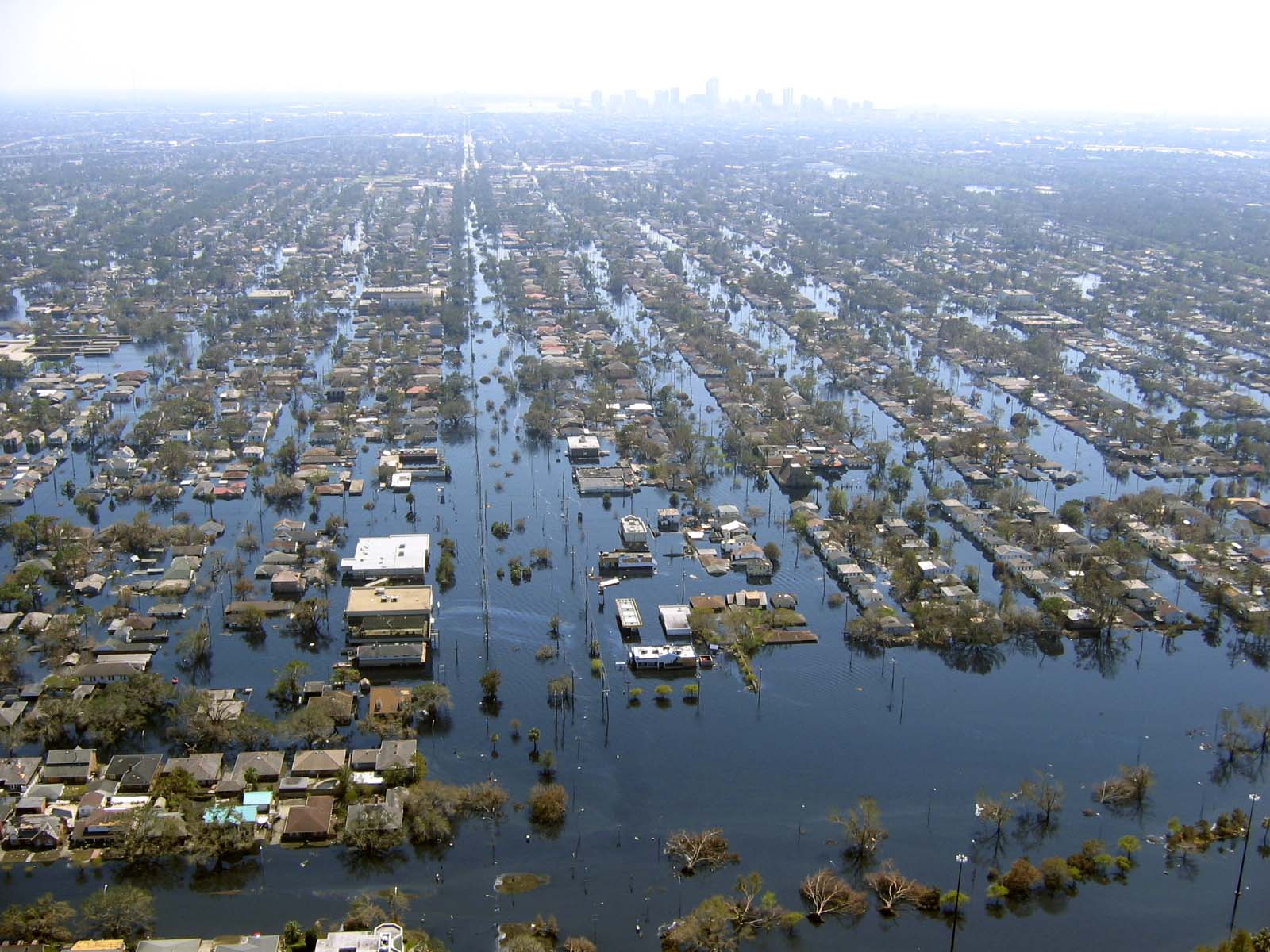 **What is already happening?
**
We are all highly aware of the devastating effects of Hurricane Katrina. It served as one of the first signs of an increase in extreme weather. New Orleans has already had an increase in days over 95 degrees Fahrenheit, and an above average death rate due to the increase in heat.
What could happen in the future?
Even though Katrina had already created the most flooding this city has ever seen, water levels are expected to be 12-14 inches higher in 2050 than it is today. Half of its population lives below sea level, so the majority of the population already affected by Katrina will be even more devastated in the future.
What is being done?
Over 1 million volunteers have been in New Orleans since Katrina hit to help rebuild. The city rebuilt the levee system, but it is deemed inadequate to handle future incidences. There are also community-wide emission reduction activities that are promoted across the entire city. For example, a large amount of the homes that were destroyed are being rebuilt as sustainable living spaces through the Make it Right campaign.
South Carolina
What is already happening?
There have been 10 extreme weather events that have happened over the past five years. These events have costed South Carolina over $1 billion dollars in damage. Alike to the other areas, asthma and heat stroke related illnesses have increased over the past few years.
What could happen in the future?
Drought and the amount of invasive species are both expected to increase. This will put pressure on the economy as more and more of their fish and shellfish are killed off.
What is being done?
The state plans to reduce GHG emissions. They plan to reduce their GHG emissions by 5% from what they were in 1990 within the next five years. In order to reduce these emissions, they approved a few dozen policies that would help them successfully reach their goal. The average cost these policies would be the equivalent of $5 per ton of carbon dioxide reduced. South Carolina also passed legislation that gives tax credit to those who purchase clean vehicles and use alternative energy sources for their cars.
**A clean future ahead.**
Although these areas across the country have already been hit hard by extreme conditions, there is hope for the future of mitigating climate change. Clean energy initiatives have been a large part of the solution to helping solve the effects of changing climate, in addition to localized efforts to minimize any destruction and prevent the worst from occurring. The world is a vulnerable place, but we have no choice but to do our best to protect it. 
_Want to choose clean energy at home? Sign up for Arcadia today. _